---
2022 Riggsby Lecture: Monica Green,
"A Mediterranean Divide: Islamic versus Christian Experiences of the Black Death"
Professor Green is a distinguished medieval historian and historian of science and medicine. She has previously held positions at Princeton, UNC Chapel Hill, Duke, and Arizona State, and most recently joined the Department of History at Stanford as the Suppes Visiting Professor. Her publications include Women's Health Care in the Medieval West (Routledge, 2000) and Making Women's Health Masculine: The Rise of Male Authority in Pre-Modern Gynecology (Oxford University Press, 2009). Her recent work focuses on the history of the Black Death. culminating in an article in the December 2020 issue of The American Historical Review. entitled "The Four Black Deaths."
When plague started to move across the Black Sea and into the Mediterranean sometime in the summer of 1347, it was moving into an environment that had been defined for thousands of years by its shared physical environment. Some of the most famous books in History in the past century assume the common ecology and shared cultural traditions of the societies surrounding the Mediterranean. Virtually unceasing trade across the "middle sea" continued between its northern and southern shores throughout the Middle Ages. It is hardly surprising, therefore, to find that plague struck all sides of the Mediterranean—east and west, north and south—with equal ferocity in 1347 and 1348.
How the disease was received in different areas, however, differed dramatically. This talk will present evidence from an epidemiological history of the Black Death as a pan-Afroeurasian pandemic. Although palaeogenetic evidence has not yet been retrieved from the southern shore of the Mediterranean, there is no reason to doubt that the same disease struck Christian and Islamic polities equally and at the same time. Why, then, do we see such different responses under different regimes? I argue that it was not simply "religion" that determined those differences, but differing cultural memories of the disease. The Islamicate world maintained a living memory of the late antique experience of plague in its moral system, while its medical system maintained a category for plague as it developed in the Abbasid period. Thus, even though early responses to plague in the Maghreb and the Mashriq were independent of one another, they had structural parallels. In Christian Europe, in contrast, plague had been forgotten and so struck as a "new" disease, provoking trauma both physical and cognitive.
---
About the Riggsby Lecture: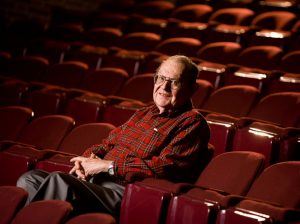 Thanks to the generous support of donors Stuart and Kate Riggsby, the Marco Institute was able to establish the annual Riggsby Lecture in 2004. This lecture series brings a prestigious scholar of the medieval Mediterranean to the University of Tennessee campus every fall to give a public talk on a medieval Mediterranean topic of the speaker's choosing. We are grateful to the Riggsbys to have been able to host the following distinguished academics in past years.
---
2020
Samantha Kelly
"The Other Christians of the Late Medieval Mediterranean: Ethiopian Settlement and Exchange with Latin Europe, c. 1200 – c. 1550"
---
2019
Maureen Miller
"Medieval Italy's Bishops: A Mediterranean Episcopate in its European Context, c. 1050-1300"
---
2018
Hussein Fancy

Associate Professor of History, Univ. of Michigan
"The Impostor Sea: The Making of the Medieval Mediterranean"
---
2017
Nuria Silleras-Fernandez
Associate Professor of Spanish and Portuguese, University of Colorado – Boulder
"The Crown of Aragon and the Mediterranean: Politics, Gender, and Culture"
---
2016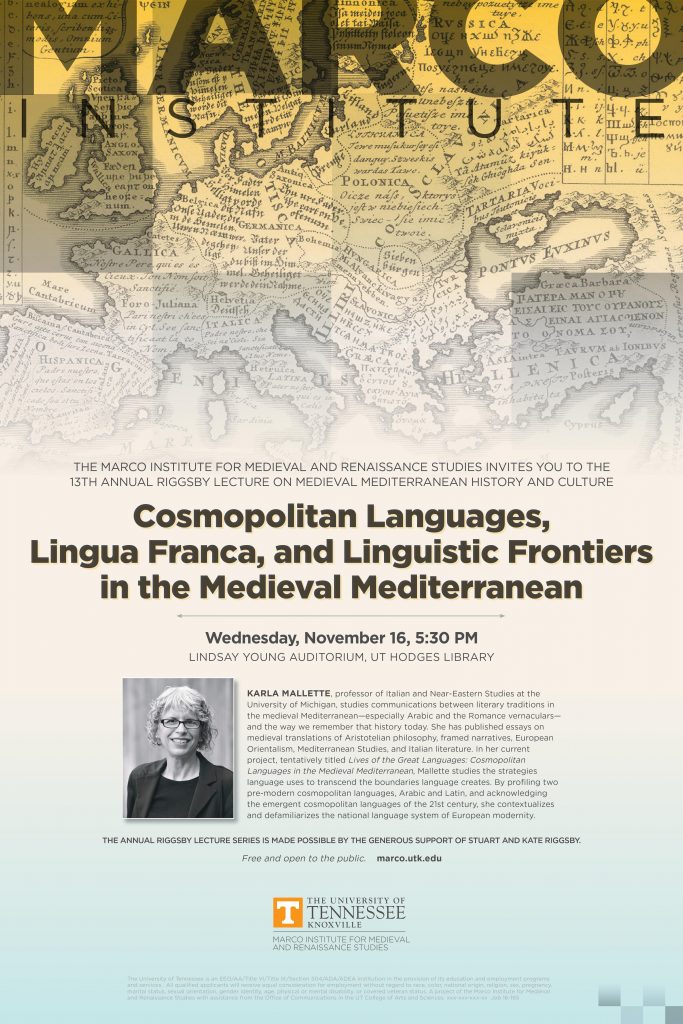 Karla Mallette
Professor of Italian and Near-Eastern Studies, University of Michigan
"Cosmopolitan Languages, Lingua Franca, and Linguistic Frontiers in the Medieval Mediterranean"
---
Paul M. Cobb
Professor of Medieval Islamic History, University of Pennsylvania
"Charlemagne's Muslim Elephant: Kingship, Nature, and Monotheism in the Early Middle Ages"
Click Here to watch the simulcast on November 5 @ 5:30p
---
2014
Jonathan P. Phillips
Professor of History, Royal Holloway, University of London
"Saladin: Life and Legend"
---
2013
Catherine Brown
University of Michigan
"Traveling Hands: Mobile Manuscript in the Early Medieval Mediterranean"
---
2012

Amy Remensnyder
Brown University
"La Conquistadora: A Tale of Two Seas, the Virgin Mary, Muslims, Christians, Jews, and Indians"
---
2011
Paul H. Freedman
Chester D. Tripp Professor of History, Yale University
"A Phantom Spanish Archive: The Past Slips Through Our Fingers"
---
2010
Cynthia Robinson
Cornell University
"Who's that Girl?: Cross-cultural Narrative, Mysticism and the Lady on the Alhambra Ceilings"
---
2009
Sharon Kinoshita
University of California, Santa Cruz
"How To Do Things in the Medieval Mediterranean"
---
2008
Michelle Hamilton
University of California, Irvine
"The Fall of 'Spain': The Problem of Muslims in Medieval Iberia"
---
2007
Joel Cohen
Director, Boston Camerata
"Music of the Three Religions in Medieval Spain"
---
2006
Timothy Barnes
University of Toronto
"What is the Theodosian Code?"
---
2005
David Nirenberg
Johns Hopkins University"King Alfonso VIII and the Jewess of Toledo: A Love Story"
---
2004
Olivia Remie Constable
University of Notre Dame
"A Game for Everybody: Chess and Society at the Court of Alfonso X of Castile"