2019 Riggsby Lecture:
Dr. Maureen Miller
Professor of History, UC-Berkeley
"Medieval Italy's Bishops: A Mediterranean Episcopate in its European Context, c. 1050-1300"
Time: 5:30 pm
Date: Monday, October 21
Location: Toyota Auditorium, Howard Baker Center
A reception will follow the talk

This year's Riggsby lecture, "Medieval Italy's Bishops: A Mediterranean Episcopate in its European Context, c. 1050-1300," explores a distinctive aspect of the medieval Italian church: its extraordinarily high number of bishops. Professor Maureen Miller will sketch the distribution of bishops across the peninsula, the historical circumstances that yielded this plethora of prelates, and the vast differences in resources they had to carry out their pastoral duties. She will then turn to the ramifications of these conditions. How did this abundance of bishops influence the quality and character of pastoral care, the institutions of local churches, and the kinds of men who became diocesan leaders? Throughout the lecture, Miller will explore differences between northern and southern Italy as well as relations with the increasingly powerful bishop of Rome, the pope.
Maureen Miller is a professor of history at the University of California, Berkeley. Her research examines the capacity of individuals and societies for change during the social, economic, political, and cultural transformations of Europe during the eleventh and twelfth centuries. She has a particular interest in movements for reform during this period, as well as in the development of institutions, social relations, urban landscapes, and cultures of medieval Italian cities.
Questions? Email marco@utk.edu
---
About the Riggsby Lecture: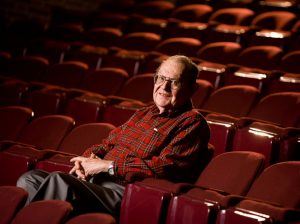 Thanks to the generous support of donors Stuart and Kate Riggsby, the Marco Institute was able to establish the annual Riggsby Lecture in 2004. This lecture series brings a prestigious scholar of the medieval Mediterranean to the University of Tennessee campus every fall to give a public talk on a medieval Mediterranean topic of the speaker's choosing. We are grateful to the Riggsbys to have been able to host the following distinguished academics in past years.
---
2018
Hussein Fancy

Associate Professor of History, Univ. of Michigan
"The Impostor Sea: The Making of the Medieval Mediterranean"
---
2017
Nuria Silleras-Fernandez
Associate Professor of Spanish and Portuguese, University of Colorado – Boulder
"The Crown of Aragon and the Mediterranean: Politics, Gender, and Culture"
---
2016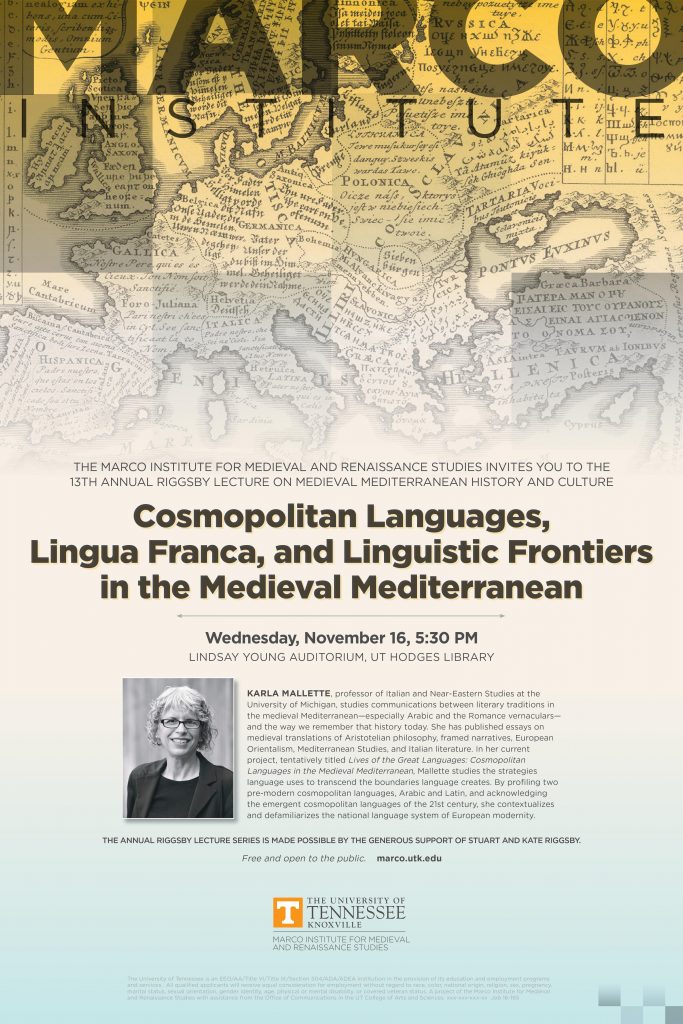 Karla Mallette
Professor of Italian and Near-Eastern Studies, University of Michigan
"Cosmopolitan Languages, Lingua Franca, and Linguistic Frontiers in the Medieval Mediterranean"
---
Paul M. Cobb
Professor of Medieval Islamic History, University of Pennsylvania
"Charlemagne's Muslim Elephant: Kingship, Nature, and Monotheism in the Early Middle Ages"
Click Here to watch the simulcast on November 5 @ 5:30p
---
2014
Jonathan P. Phillips
Professor of History, Royal Holloway, University of London
"Saladin: Life and Legend"
---
2013
Catherine Brown
University of Michigan
"Traveling Hands: Mobile Manuscript in the Early Medieval Mediterranean"
---
2012

Amy Remensnyder
Brown University
"La Conquistadora: A Tale of Two Seas, the Virgin Mary, Muslims, Christians, Jews, and Indians"
---
2011
Paul H. Freedman
Chester D. Tripp Professor of History, Yale University
"A Phantom Spanish Archive: The Past Slips Through Our Fingers"
---
2010
Cynthia Robinson
Cornell University
"Who's that Girl?: Cross-cultural Narrative, Mysticism and the Lady on the Alhambra Ceilings"
---
2009
Sharon Kinoshita
University of California, Santa Cruz
"How To Do Things in the Medieval Mediterranean"
---
2008
Michelle Hamilton
University of California, Irvine
"The Fall of 'Spain': The Problem of Muslims in Medieval Iberia"
---
2007
Joel Cohen
Director, Boston Camerata
"Music of the Three Religions in Medieval Spain"
---
2006
Timothy Barnes
University of Toronto
"What is the Theodosian Code?"
---
2005
David Nirenberg
Johns Hopkins University"King Alfonso VIII and the Jewess of Toledo: A Love Story"
---
2004
Olivia Remie Constable
University of Notre Dame
"A Game for Everybody: Chess and Society at the Court of Alfonso X of Castile"