2020 Riggsby Lecture: 
Samantha Kelly
Professor of History, Rutgers University
"The Other Christians of the Late Medieval Mediterranean: Ethiopian Settlement and Exchange with Latin Europe, c. 1200 – c. 1550"
Date: Thursday, October 1, 2020
Time: 5:00 PM EDT
Venue: This free public lecture will be hosted online via Zoom. Get the link here.
Questions? Email marco@utk.edu
---
About the Riggsby Lecture: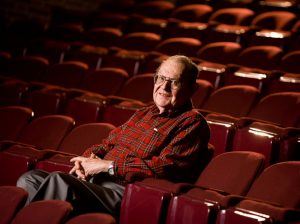 Thanks to the generous support of donors Stuart and Kate Riggsby, the Marco Institute was able to establish the annual Riggsby Lecture in 2004. This lecture series brings a prestigious scholar of the medieval Mediterranean to the University of Tennessee campus every fall to give a public talk on a medieval Mediterranean topic of the speaker's choosing. We are grateful to the Riggsbys to have been able to host the following distinguished academics in past years.
---
2019
Maureen Miller
"Medieval Italy's Bishops: A Mediterranean Episcopate in its European Context, c. 1050-1300"
---
2018
Hussein Fancy

Associate Professor of History, Univ. of Michigan
"The Impostor Sea: The Making of the Medieval Mediterranean"
---
2017
Nuria Silleras-Fernandez
Associate Professor of Spanish and Portuguese, University of Colorado – Boulder
"The Crown of Aragon and the Mediterranean: Politics, Gender, and Culture"
---
2016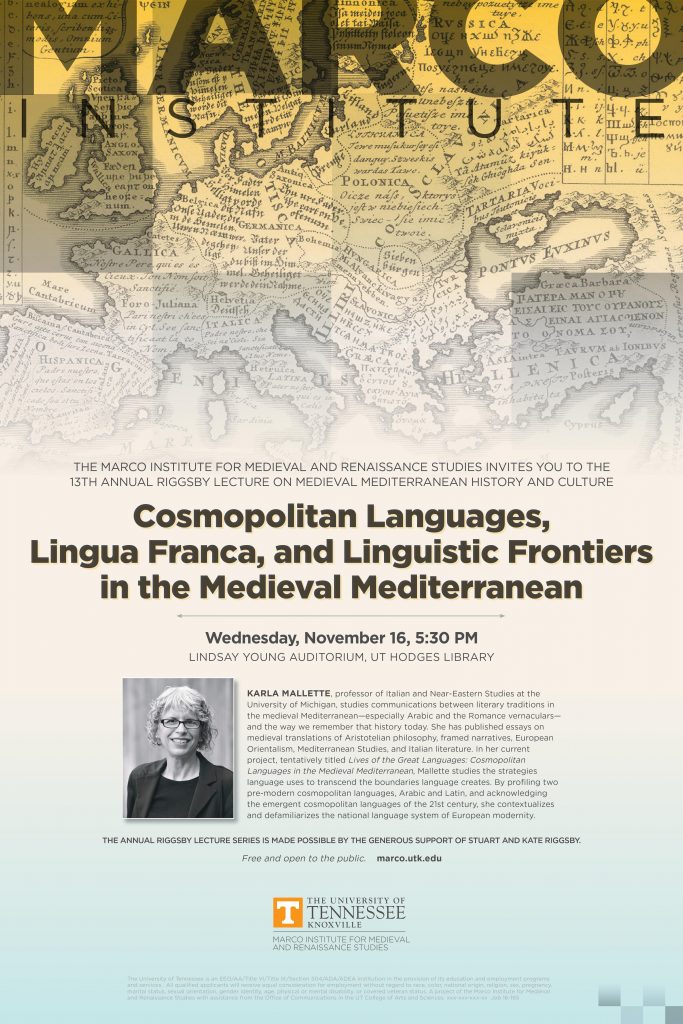 Karla Mallette
Professor of Italian and Near-Eastern Studies, University of Michigan
"Cosmopolitan Languages, Lingua Franca, and Linguistic Frontiers in the Medieval Mediterranean"
---
Paul M. Cobb
Professor of Medieval Islamic History, University of Pennsylvania
"Charlemagne's Muslim Elephant: Kingship, Nature, and Monotheism in the Early Middle Ages"
Click Here to watch the simulcast on November 5 @ 5:30p
---
2014
Jonathan P. Phillips
Professor of History, Royal Holloway, University of London
"Saladin: Life and Legend"
---
2013
Catherine Brown
University of Michigan
"Traveling Hands: Mobile Manuscript in the Early Medieval Mediterranean"
---
2012

Amy Remensnyder
Brown University
"La Conquistadora: A Tale of Two Seas, the Virgin Mary, Muslims, Christians, Jews, and Indians"
---
2011
Paul H. Freedman
Chester D. Tripp Professor of History, Yale University
"A Phantom Spanish Archive: The Past Slips Through Our Fingers"
---
2010
Cynthia Robinson
Cornell University
"Who's that Girl?: Cross-cultural Narrative, Mysticism and the Lady on the Alhambra Ceilings"
---
2009
Sharon Kinoshita
University of California, Santa Cruz
"How To Do Things in the Medieval Mediterranean"
---
2008
Michelle Hamilton
University of California, Irvine
"The Fall of 'Spain': The Problem of Muslims in Medieval Iberia"
---
2007
Joel Cohen
Director, Boston Camerata
"Music of the Three Religions in Medieval Spain"
---
2006
Timothy Barnes
University of Toronto
"What is the Theodosian Code?"
---
2005
David Nirenberg
Johns Hopkins University"King Alfonso VIII and the Jewess of Toledo: A Love Story"
---
2004
Olivia Remie Constable
University of Notre Dame
"A Game for Everybody: Chess and Society at the Court of Alfonso X of Castile"