The Lindsay Young Distinguished Visiting Senior Scholar Program began in 2015. Designed to bring a distinguished scholar to campus for an extended visit of one to three weeks, this program enriches faculty research and graduate and undergraduate education on campus.
Martin Aurell
In spring 2017, Marco welcomed Martin Aurell, professor of medieval history at the University of Poitiers, France, where he is also director of the Center for Advanced Studies in Medieval Civilization (Centre d'Etudes Supérieures de Civilisations Médievales- CESCM), one of the world's foremost centers for advanced research and study of the Middle Ages.
During his visit, Professor Aurell attended the annual Marco Symposium, delivered a public lecture titled "King John of England and France," led a research seminar with Marco faculty and graduate students, and collaborated with members of the Marco community.
"We hope Professor Aurell's visit will lead to future collaborations between our two institutes, including building a graduate student exchange program between UT and Poitiers," says Anne-Hélène Miller, professor of medieval French.
"I have never had so wonderful hosts in a university!" – Martin Aurell
Brenda Bolton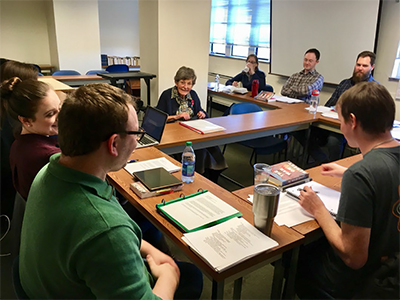 Brenda Bolton, emerita professor of medieval history at the University of London (Queen Mary & Westfield College), spent nine days at UT in November 2017. Bolton's research focuses on church history, particularly on the career of Pope Innocent III (1198-1216).
During her time in East Tennessee, Bolton delivered a public lecture titled "The Death and After-Life of Pope Innocent III" and led a faculty-graduate research seminar on Pope Eugenius III (1145-53). She visited several Marco-affiliated classes and joined Lauren Whitnah, lecturer in Medieval and Renaissance Studies, and her Medieval Civilization students for a lesson on manuscripts in the UT Special Collections. She also accompanied Marco's Associate Director Gregor Kalas and history graduate students Lydia Walker and Brittany Poe on an all-important pilgrimage to Dollywood.
"I want to be working all the time to earn even a fraction of these privileges that the Lindsay Young Bequest is giving me." – Brenda Bolton