March 8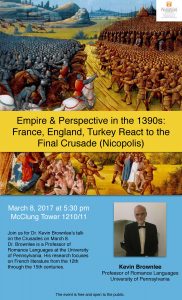 "Empire & Perspective in the 1390s: France, England, Turkey React to the Final Crusade (Nicopolis)" at 5:30 pm in 1210 McClung Tower
Kevin Brownlee, Professor of Romance Languages at the University of Pennsylvania
Co-Sponsored by Marco, the UT Humanities Center, the Dept. of History, and the Dept. of Modern Foreign Languages and Literatures.
March 9
"Making a Mark(up): Medieval Manuscripts as Landscapes of Life in the Digital Age" at 3:30 pm in 1210 McClung Tower
Elaine Treharne, Roberta Bowman Denning Professor of Humanities and Professor of English at Stanford University
Part of the English Department's Literature, Criticism, and Textual Studies Speaker Series
March 24-25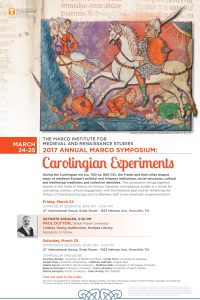 14th Annual Marco Symposium: "Carolingian Experiments"

Friday, March 24 8:45 am – 4:00 pm
Saturday, March 25 10:00 am – 4:30 pm
UT International House, Great Room
March 24-29
Martin Aurell, Professor of Medieval History at the University of Poitiers and Director of the Centre d'Etudes Supérieures de Civilisation Médiévale
April 17-18
Sara Lipton, Professor of History at the State University of New York at Stony Brook
April 20
Marco Fellows Night, featuring public talks by James Stewart (2016-17 Haslam Dissertation Prize winner) and Bradley Phillis (2016 Anne Marie Van Hook Memorial Travel Fellowship winner)
* Visit marco.utk.edu or email marco@utk.edu for more information. Also check us out on social media @marcoinstitute.